Free shipping for EU order > 150 Euros
Login
Log in if you have an account
Register
Having an account with us will allow you to check out faster in the future, store multiple addresses, view and track your orders in your account, and more.
Create an account
A golden egg hunt before a colorful festive Easter brunch!
06 Apr 2022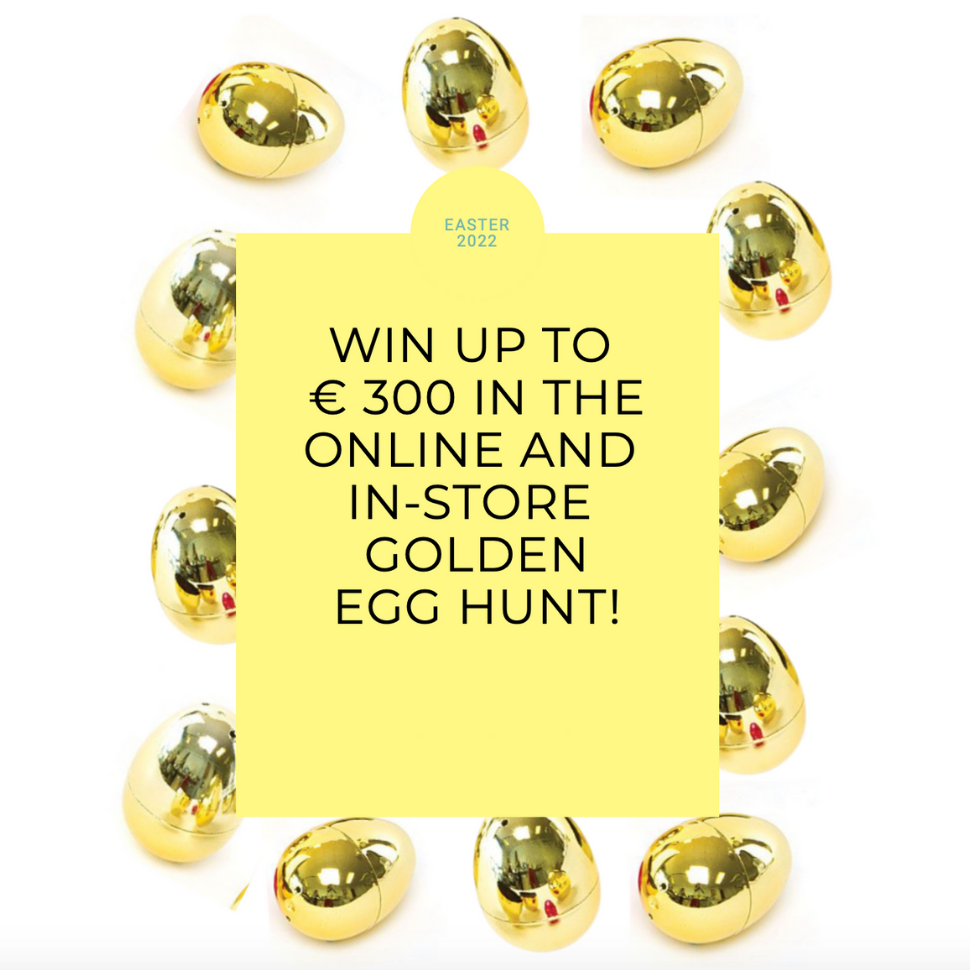 Everything you need for a well deserved Easter brunch table setting after first having hunted some golden eggs!


Many an Easter morning will start with a traditional egg hunt. There are many varieties of egg hunts! I very much like the one where real eggs, painted by the children in the days leading up to Easter are involved, but the little ones themselves are more keen on the chocolate Easter eggs. At Curiosa Cabinet we are organising our own little egg hunt on the three days before Easter Sunday. The golden eggs will be hidden in the store at Lange Leidsedwarsstraat and also here in our webshop.
This is how the golden egg hunt is played!


The golden egg hunt in the store on Lange Leidsedwarsstraat 147, Amsterdam
On Thursday the 14th, Firday the 15th and Saturday the 16th of April we will hide four hollow golden eggs in the store. This means four eggs on each of those days. Only one holds a gift certificate of 50 Euros and the other three have a chocolate surprise inside.
When you come to the store on those three days before Easter Sunday (Store open from 12.00 to 17.00) you can look for the eggs that are hidden behind, in or on the collection. The rule is that you can only open one of the eggs you find, so no touching the eggs before you make a decision on which you would like to open! If you are the lucky winner of the 50 Euros gift certificate, the hunt for that day in the store is over and you will receive a 50 Euros discount on your purchases in store that day! If you choose to open one that holds a chocolate surprise you cannot open another one, and it's the next contenders' turn to find and choose an egg!
The golden egg hunt on the Curiosa Cabinet webshop
On Thursday the 14th, Friday the 15th and Saturday the 16th April we will hide one golden egg at 11.00 AM ( Central European Time ) in one of the product pictures somewhere in the web shop. If you find this picture with the golden egg, send us a screenshot of the picture where you have seen the golden egg (either through DM via Instagram or to our [email protected] email address). If you are the first to send the picture, you will receive an online discount code that is worth 50 Euros at check out. The online winner of the day will be announced at 18.00 (CET) the same day! We will mention the time the winner send his or her picture!


P.S. For every golden egg gift certificate that's found in store or the webshop those days, I will also donate 50 euros to GIRO555 (the cooperation of Dutch aid organizations for Ukraine)! 
* Check out the General conditions for Curiosa Cabinet gift certificates below

Got an appetite from hunting for golden eggs for a couple of days? Sit down for a lovely brunch, lunch or dinner with these tips for a festive Easter table setting.


Arranging a stylish Easter table is a great way to show off your original sense of style. Ditch the traditional easter baskets, add some quirky decorative items, mix in some spring-appropriate bright hues and textures, and your perfect eclectic Easter table is all set.
We've bundled some of our favorite go-to Easter table decor tips that will definitely impress your guests this Easter. Whether you're hosting an Easter breakfast, easy brunch, or an elegant dinner, with these sophisticated & stylish table decor ideas, you are good to go!
Decorate your table with flowers


Easter is the holiday that celebrates new beginnings. Any Spring celebration asks for fresh flowers (and beautiful vases) on your table. At Curiosa Cabinet we have got you covered on little vases that are perfect to spread all over the table with fresh flowers so it will be looking festive everywhere.
This is a great way to modernize the traditional Easter table, and another big advantage to one big bouquet is that everyone at the table can still see each other overlooking the little vases.
When choosing the perfect vase, make sure to always factor in the colors of the fresh seasonal flowers you plan to use.
We still have little ceramic bulb-shaped vases in two colors, a pink vase, a green-grey vase. If you're looking for something unique you should check out the series of  hand-painted ceramic vases by Marlies Boomsma, the colors make them our spring favorites. Rather go for classic blue and white? Then you are in luck, we have those very cute little blue and white vases in three different shapes. 
Little vase hand painted by Marlies Boomsma
€14,95


SHOP NOW

 

Small pink vase
€5,95
SHOP NOW

 

Small blue white porcelain vase
€14,95


SHOP NOW
Add some animal to your tablescape
Of course you can put bunnies on the table this Easter, we have many options for sale! The butterknife and salt&pepper being my favorites!
But these little statues in the pictures below are just-in and already a favorite in store. The animal place holders by Italian brand Les Ottomans are cute, unique, original and colorful. We love to incorporate these quirky animal elements like the elephant, leopard and cockatoo to create a fun table setting.
Go for extra color with crystal glass candle holders


Skip the plastic Easter egg decor. We feel that every sophisticated Easter tablescape needs some candles. With candles and candle holders, you'll be able to add color and, of course, candlelight. At Curiosa Cabinet we have a large range of candle holders and candles. For an Easter table setting, we suggest bringing extra  colors to the party with the bright crystal glass candle holders by Giftcompany.
And why not add a fresh clean fragrance to the celebration by getting a scented candle from our home fragrance collection with brands like Cerraría Mollá, Claus Porto, and Côté Bougie.
Colored crystal candle holder
€ 34,95


SHOP NOW

High reversible tea -light holder
€ 17,95,-


SHOP NOW

Crystal ball candle holder
€ 64,95


SHOP NOW
Bring the brunch outside
Easter coincides with the start of spring. An outdoor brunch would be the perfect way to celebrate. Unfortunately, in Amsterdam, perfect weather for Easter is never a sure thing. But if the sun is out, take advantage of it and host your Easter feast outdoors! Adding a colorful table cloth by Les Ottomans to your table, inside or out, will bring a bit of sunshine to your Easter table setting.
Orange Ikat cotton tablecloth
€ 115
SHOP NOW
Blue - white cotton tablecloth
€ 139,95
SHOP NOW
 Green Ikat cotton tablecloth
€ 115
SHOP NOW



About Curiosa Cabinet
CURIOSA CABINET's collection is eclectic, fun, always original, unexpected, and sophisticated at the same time. Something you won't find in every store. Invaluable treasures, that most of the time the owner secretly wants to keep to herself. Each piece in the collection is a conversation starter. Unique items that tell a story. A story that adds that extra touch of character and originality to any space.
* General conditions for gift certificates

All gift certificates are valid during the period stated on the card - a period of one year after the day of purchase.
Gift certificates are not redeemable for cash
Curiosa Cabinet is not responsible for the loss or damage to the certificate or discount code nor if  it has been used without consent. No replacement will be offered in those circumstances.
Can be used online or in our Brick & Mortar store.
Gift certificates, and the online discount codes on the card, are valid for a single transaction only. No credit or change will be given on the unused portion of the amount of the gift certificate.
Shipping costs are not included in the discounted amount.
In case of returns no cashback, only store credit.